MidFlorida Credit Union Amphitheatre At The Florida State Fairgrounds | Tampa, Florida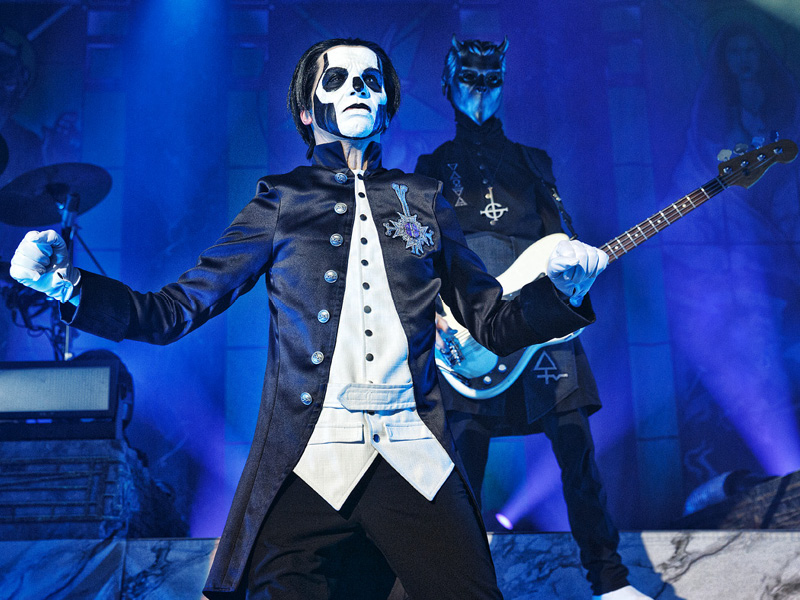 [MESSAGE FROM THE CLERGY]
We wish to inform you that GHOST will be returning to haunt US soil with the RE-IMPERATOUR U.S.A. 2023 with special guests Amon Amarth at the MidFlorida Credit Union Amphitheatre on Thursday, August 31st, 2023.
O come, all ye faithless, destructive and terrible!
O come ye, O come ye, to Florida
Come and behold Him
Born the anti-pope Papa Emeritus I
O come, let us hate Papa Emeritus II
O come, let us destroy Papa Emeritus III
It is the time of Papa Emeritus IV!
Tickets to RE-IMPERATOUR are now available to the worthy.
In today's music scene, there aren't many bands that are willing to push the boundaries to the point where their stage shows are just as vital as their music. Ghost is one of the few notable exceptions. Their very existence is accompanied by a concept, a background, and intricate graphics; these embellishments are as integral to the band's concerts as guitars or drums are to other bands' shows. Heavy metal music has always had a close relationship with religious symbolism and satanism; the pioneers of the heavy metal genre, Black Sabbath, were the undisputed kings of combining the two. On the other hand, Ghost takes the structure to an entirely new level. During live performances, the band dresses the stage up to look like a church. The intention is to demonstrate the redemptive power of music, with the live performance taking the place of a traditional worship session. Then there are the musicians, who are led by a figure resembling a satanic priest and dressed in papal regalia. This figure has a voice that boasts an unexpectedly alluring charm and fragility, and he is supported by a group of guitar playing cardinals and demon drummers known as the "Nameless Ghouls."
Members of Ghost are Tobias Forge performing lead vocals, guitars, bass, keyboards, and percussion. He also represents the following personas Papa Emeritus I through IV, as well as Cardinal Copia. The rest of the band are a Group of Nameless Ghouls performing guitars, bass, drums, percussion, keyboards, organ, synthesizers, backing and choir vocals.