MidFlorida Credit Union Amphitheatre Seating Chart
Check out the handy seating chart below to plan your seats or to get an idea of where you will be seated on the day.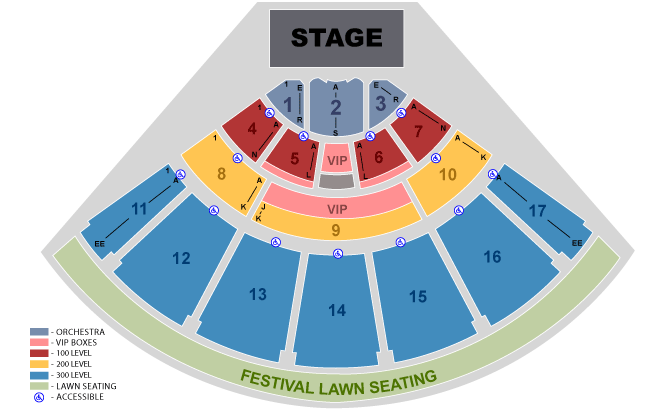 MidFlorida Credit Union Amphitheatre is a wide open and very spacious venue with room for a jaw-dropping 20,000 guests across multiple levels. While all seating sections offer a great view of the stage and acoustical engineering for crisp and clear sounds, prices can range depending on how close to the stage you want to be.
As indicated there are 5 seating areas, each indicated by the difference in color on the illustration. The lawn area is located at the rear of the venue for those who would like to a more relaxed seating options. Seats can be located in front of the lawn area and, in the yellow section, VIP Seating can be located. If you prefer a more personal experience with the performers, then the seating indicated in the dark red color may be more preferable.
Reserved Seating Space
Fans will tell you that the best viewing experience comes from right up in front of the stage (Sections 1-3) or in sections 5, 6, and 9, if you don't need to be right in front of the band to have a great time. For most events, reserved or VIP seating is in pre-built and placed chairs that offer comfort, leg room, and elbow room next to your neighbors.
Lawn Space Policies
The lawn is a popular option for anyone who enjoys relaxing with friends and family, having plenty of room to dance, and having easy access to the gate when the show's over. These seats are always first come, first serve. Guests may notice a row or seat number on their lawn ticket, but that is only used for tracking purposes. There are no assigned seats on the lawn, so if you want the best view of the stage, we suggest arriving early.
Accessible Seating
There are handicapped seats available at all levels of the venue. These seats often include companion seats unless space fills up with wheelchair users first. If you need to switch to ADA approved seating for any reason, please call the venue at your earliest opportunity at (813) 740-2446. Please be aware that this seating is offered on a first come first serve basis, so there may not be handicap seating available if you wait too long.