MidFlorida Credit Union Amphitheatre | Tampa, Florida
Dave Matthews Band comes to MidFlorida Credit Union Amphitheatre on Wednesday 27th July 2016
It's the most wonderful time of the year…Dave Matthews Band followers are on a celebratory mood, not only because it's summer –a time for DMB's annual summer tour; but the 2016 summer tour is extra special because DMB is now on on the road for their monumental 25th anniversary
tour.
Indeed, Dave Matthews Band is still unstoppable! They are wildly packing-in arenas and fans can't get enough of those 'to-die-for' tickets. You can either brave the massive crowds the last minute and feel stressed out, or score those tickets now and elatedly be secured of your spot on the most-awaited concert of the year!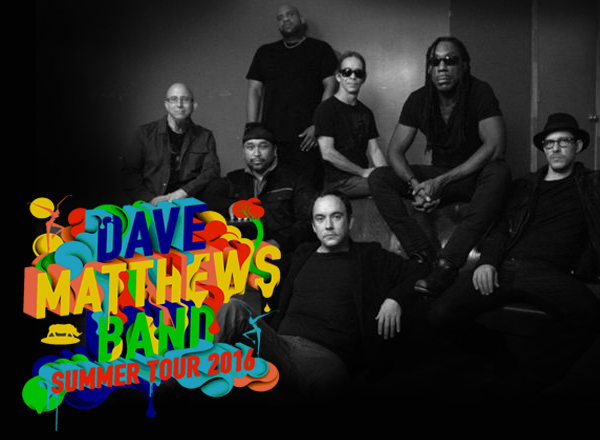 You've seen it once, you've seen it all — such is definitely NOT the case for Dave Matthew's Band's concerts. A DMB concert is literally one of a kind. It is a widely known fact that Dave Matthews Band is a master of improvisation. The band never plays the same song the same way. Each rendition is different. Each performance offers something new, something fresh.
Dave Matthews Band was formed in 1991, and is composed of singer-songwriter and guitarist Dave Matthews, bassist Stefan Lessard, drummer/backing vocalist Carter Beauford and saxophonist LeRoi Moore. The band lost their saxophonist, Moore, due to an unexpected death in 2008. Filling-in on his spot was Grammy Award-winner Jeff Coffin (of BÈla Fleck and the Flecktones). Over the years, additional members were added to the line-up: Boyd Tinsley ñ violin, vocals, mandolin, flute; Tim Reynolds ñ electric guitar and Rashawn Ross ñ trumpet, backing vocals.
Their wildly successful tours could be highly attributed to the tremendous sales and chart action of their studio albums. They are the only group to have six consecutive studio albums debut in the top spot of the Billboard charts. Some of their phenomenal hit songs include: "Ants Marching," "Satellite," "Too Much," "Crash Into Me," "Don't Drink the Water," "Stay (Wasting Time)," "The Space Between," and "Funny the Way It Is." To date, they have sold over 30 million albums worldwide. And counting has not stopped as of yet…