MidFlorida Credit Union Amphitheatre | Tampa, Florida
HUGE news!! Are you ready for this?!? The MidFlorida Credit Union Amphitheatre is proud to announce that Weezer, Pixies and The Wombats will take to the stage on Saturday 23rd June 2018!! Limited tickets still available for this amazing sellout show – don't delay in getting yours!! Hurry and get your tickets to see Weezer, Pixies and The Wombats NOW while you can!!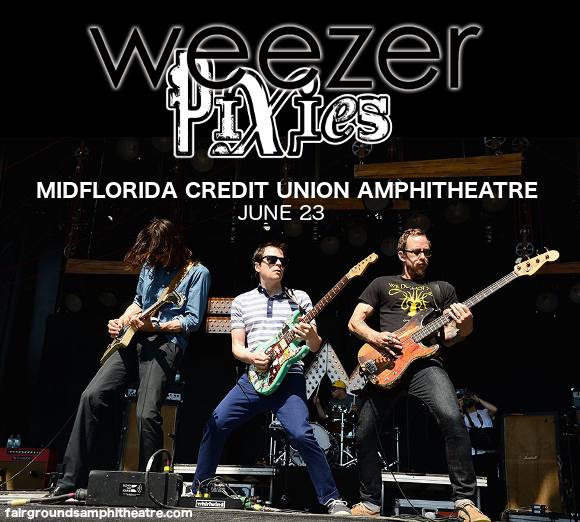 Since the two bands first shared a stage, audiences around the world have been waiting for Weezer and the Pixies to announce a tour together. Now, that day has come, and it's a huge tour to boot, totalling no than less seven weeks across North America from Arizona to Florida! The tour comes off the back of Weezer's most recent release, the stunning "Pacific Daydream." Following their last album, "The White Album," fans were expecting "The Black Album," but plans were interrupted as the band found their songwriting for the new album taking on a new and surprising twist, "like reveries from a beach at the end of the world… as if the Beach Boys and The Clash fell in love by the ocean and had one hell of an amazing baby." The album was postponed to make way for "Pacific Daydream," Weezer's most unusual record yet – a trait admired by the Pixies, who love Weezer for their risk-taking tendencies. The Pixies' live show will require fans to expect the unexpected – the band will play "whatever they want" from any point of their long career in an incredibly intense performance.
What are you waiting for?? Grab your tickets today!!