MidFlorida Credit Union Amphitheatre | Tampa, Florida
90s alt-rockers Weezer & noughties pop rock vaudevillians Panic! At The Disco are teaming up this summer for an epic double headlining tour! With Panic! At The Disco's newly released LP Death of a Bachelor, and Weezer's The White Album slated for release in April, fans of both celebrated bands can look forward to a veritable feast of new material! Check them out at MidFlorida Credit Union Amphitheatre on Wednesday 15th June!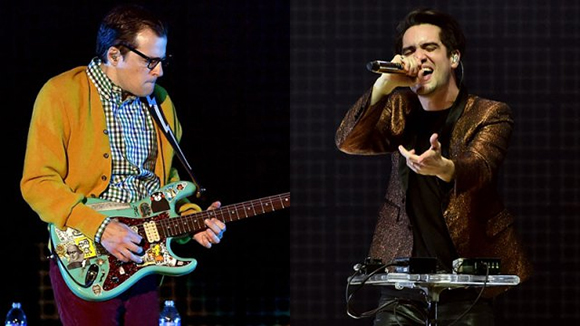 Formed in 2004 in Las Vegas, Nevada, Panic! At The Disco is a pop rock band that was founded by founded by childhood friends Ryan Ross, Spencer Smith, Brent Wilson and Brendon Urie when they were in high school. Originally a Blink 182 covers band, the group went on to drop out of school in order to concentrate on writing original material. They sent a demo to Fall Out Boy bassist Pete Wentz, who immediately signed the band (who had yet to perform a live show at this point) to his Fueled by Ramen imprint label Decaydance Records, making them the first on the new label. Wentz publically championed the band, who relocated to College Park, Maryland in order to record their debut album. The album, A Fever You Can't Sweat Out, was eventually certified double platinum in the US. Their second album, Pretty. Odd., marked a vast change in direction for the band, which ultimately led to the departure of guitarist and principal songwriter Ryan Ross and bassist Jon Walker. The band's third and fourth albums were released (2011 and 2013 respectively), marking a return to the band's original Vaudevillian pop punk sound. In 2015, founding member and bassist Spencer Smith officially left the band, leaving Brendon Urie as the only member of the official lineup. Panic! At The Disco's fifth studio album Death of a Bachelor was released worldwide on January 15, 2016.