MidFlorida Credit Union Amphitheatre | Tampa, Florida
Taste of Chaos: Dashboard Confessional, Taking Back Sunday, Saosin & The Early November comes to MidFlorida Credit Union Amphitheatre on Saturday 25th June 2016
If your music appetite is craving for the taste of heavy metail, here is something that could satisfy you hunger pangs — TASTE OF CHAOS! One of the most highly anticipated metal/Post-hardcore /metalcore / hardcore punk /emo fests to whet your appetite with this electrifying line-up:
– Dashboard Confessional
– Taking Back Sunday
– Saosin
– The Early November
Metal fans with ravenous appetites are out on the prowl for tickets. Have your fill of this thrilling music event. Get your tickets now!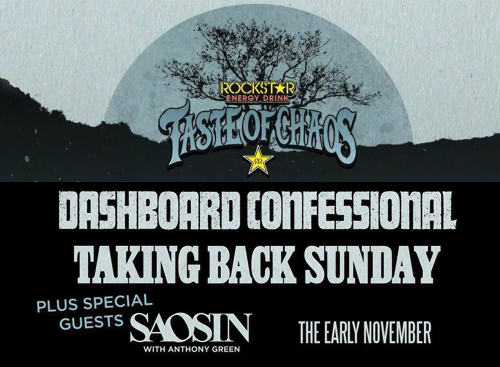 From the creators of Warped Tour – Kevin Lyman along with John Reese, sired another live music tour that would cater to post-hardcore and metal genres. In 2015, Tast of Chaos or TOC let out its primal scream. The event has been brought to countless cities in the US, hence it was dubbed as the "Winter Warped Tour."
Notable bands took the stage over the years — the likes of Rise Against, Story of the Year, and the Used, Jimmy Eat World, The All-American Rejects, Thrice, Saves the Day, The Movielife, Mark Hoppus and many more. TOC has also served as the launch pad of new artists. Paramore, in particular, was one of the acts who clinched a major record after their exposure on the live stage of TOC. TOC went on a hiatus for quite some time, but made a rousing comeback in 2015.