MidFlorida Credit Union Amphitheatre | Tampa, Florida
It's a trio of epic classic rock acts as Styx, Joan Jett and The Blackhearts & Tesla come to MidFlorida Credit Union Amphitheatre on Sunday 17th June 2018! With two full sets from Styx and Joan Jett and The Blackhearts, featuring hits like "Mr Roboto" and "I Love Rock 'n' Roll", it's going to be a wild night, so unleash your inner rebel and get ready to rock hard!!!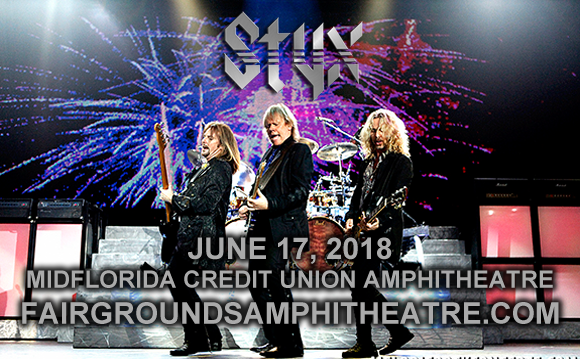 Signed to Wooden Nickel Records in 1972 after being spotted by a local talent scout, Chicago-based rock band Styx were popular throughout the 1970s and '80s with a string of hit singles that made them a household name. Their breakthrough came in 1977 when they released The Grand Illusion, the first of four consecutive multi-platinum-selling albums: The Grand Illusion (1977), Pieces of Eight (1978), Cornerstone (1979) and Paradise Theatre (1981). Styx have charted sixteen Top 40 singles over the years, including the hits "Lady", "Come Sail Away", "Babe", "The Best of Times", "Too Much Time on My Hands" and "Mr. Roboto". The band had a ten year hiatus in the mid-1980s, but they re-formed in 1995 and have been touring ever since. Their most recent release, The Mission, is a concept album released in 2017.