MidFlorida Credit Union Amphitheatre At The Florida State Fairgrounds | Tampa, Florida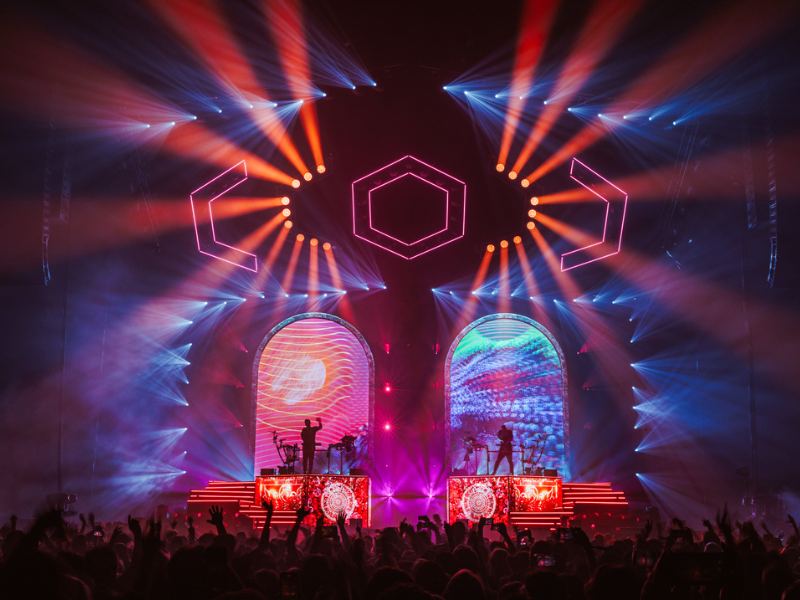 THE LAST GOODBYE TOUR is set for its second leg across cities in North America. ODESZA is back to give you a show you will never forget! What's even better is that this time around, the Grammy Award-nominated duo is bringing along some of their most talented DJ friends. Bob Moses, TOKiMONSTA, QRTR & Olan are joining the show to give you the full dance/electronic experience.
Bright lights, great music, and pyrotechnics combined in a stunning audio-visual experience.
We hope you're ready because the show is coming to a theatre near you! These talented artists are coming to the MidFlorida Credit Union Amphitheatre on Friday, the 8th of September, 2023.
Vibe with the pulsating sets and all your favorite songs, including "The Last Goodbye," "Say My Name," and "All We Need."
Call your friends and tell them Odesza is back! Buy your tickets today before the show sells out.
The Grammy Award nominee for "Best Dance/Electronic Album," ODESZA, announced that the second leg of their much-awaited THE LAST GOODBYE TOUR is finally happening! Since the album's release in 2022, it has been one of the most highly regarded dance/electronic albums of all time.
Prior to the release of The Last Goodbye album in 2022, Odesza posted a cryptic message on their Instagram, hinting that new music is about to come. They updated their website with a new entry form gathering phone numbers and email addresses. Once filled out, a message saying "Welcome to The Last Goodbye" popped up on the screen. This led people to believe that Odesza was saying goodbye to music with their last album. However, the speculation was denied by both members.
After four years of not releasing any music, Odesza released the single "The Last Goodbye," which featured vocals from Bettye LaVette. They released the full album shortly after and kicked off the first leg of The Last Goodbye Tour. In the first leg, they featured special guests, including San Holo, Elderbrook, Ben Böhmer, Ford., Gilligan Moss, and Nasaya.
This year, the second leg of the tour is kicking off, featuring incredible artists such as Bob Moses, TOKiMONSTA, QRTR & Olan. Catch the enchanting live show as these outstanding artists put you in a trance you'll never get out of!
Save the date because on Friday, the 8th of September, 2023, they are making their way to the MidFlorida Credit Union Amphitheatre to take you on a trip you've never been on before.
Bob Moses is a Canadian electronic/dance DJ who won a Grammy Award for "Best Remixed Recording, Non-classical." Their remix of "Tear Me Up" by RAC received positive reviews from critics and listeners worldwide.
TOKiMONSTA is a Canadian DJ and producer who has risen from the ranks despite being female in a male-dominated industry. She has broken barriers - standing tall in the notoriously male-dominated genres of electronic music and instrumental hip-hop. She bounced back from near tragedy and built a career all her own.
QRTR & Olan are solo DJs and producers who have recently been collaborating on music, producing the perfect blend of rhythm, beats, and vocals. Their latest track, "All U Need," is a must-listen described as "an emotionally-charged anthem exploring the struggles of breaking away from the never-ending loop of a toxic relationship, and the highs of meeting someone who accepts you for who you are.
Join the crowd and immerse yourself in a once-in-a-lifetime experience as the artists take you on a journey. Call your friends and buy your tickets today before the show sells out.