MidFlorida Credit Union Amphitheatre | Tampa, Florida
One of the major effects that the global pandemic left us with is a lot of unfinished business, particularly in the live music scene. Now that concert roads have been opened up, it's time to tie up those loose ends with a tight band that could deliver nothing but rock-solid, heavy, and ruthless metal music. Nobody can ever pull off a Knotfest Roadshow other than Slipknot. Joining them on this ground-shaking tour de force are equally heavy music luminaries– heavy music luminaries, Killswitch Engage, Fever 333, and Code Orange. The Knotfest Roadshow will rip through this side of town and come crashing at the MidFlorida Credit Union Amphitheatre on Tuesday 19th October 2021. Those fiercely loyal fans are now on the run for tickets. Click that 'Get Tickets' link to book your tickets now!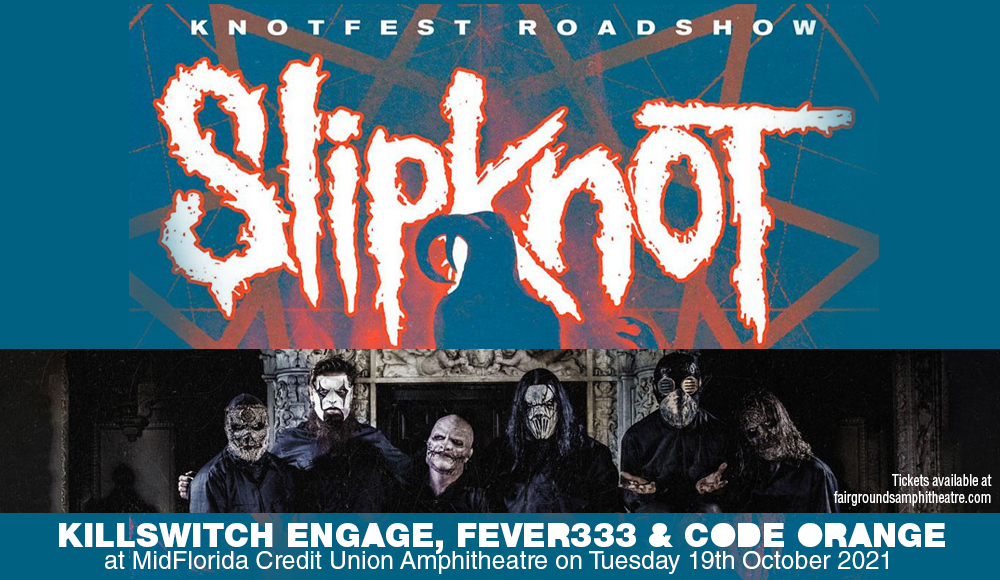 SLIPKNOT's frontman, Corey Taylor officially announced that Knotfest Roadshow is finally happening. "With the world opening up, it's time to get excited about LIFE again. To get back to LIFE again. This tour is a long time coming and we hope you're as excited to see it as we are to play it. Stay safe, stay (sic) and we'll see you soon."
It won't be long until fans would come face-to-face with the band of many attention-grabbing and nightmare-inducing faces. Slipknot's lead vocalist Corey Taylor explains, "it's our way of becoming more intimate with the music. It's a way for us to become unconscious of who we are and what we do outside of music. It's a way for us to kind of crawl inside it and be able to use it."
If you think the masks are scary, Slipknot's music ain't pretty either. Their brand of heavy metal reeks of darkness, nihilism, anger, disaffection, love, misanthropy, and psychosis. Their stage performances are aggressive, chaotic, and energetic. Kerrang! says, "the choreographed chaos is too multi-faceted to fully describe", and NME described one Slipknot show as "a scene of chaos". But above all fans love 'em to bits!
Since the release of Slipknot'seponymous debut album in 1999, they skyrocketed to fame and maintained the high altitude of their careers with mammoth-selling follow-up albums such as Iowa, Vol. 3: (The Subliminal Verses), with their 2008 fourth album, All Hope Is Gone debuting at number one on the Billboard 200 chart. Collectively, the band has sold over 30 million records worldwide.
Get your masks-up and get a grip on those hot as hell Slipknot Knotfest Roadshow tickets. Available now!