MidFlorida Credit Union Amphitheatre | Tampa, Florida
One of the most iconic rock bands of all time, Kiss, comes to MidFlorida Credit Union Amphitheatre on Saturday 9th October 2021 on their End of the Road farewell tour! The Rock and Roll Hall of Fame and Hollywood Hall of Fame inductees will be pulling out all the stops for this finale show, playing all their biggest hits and giving fans the show of a lifetime! Don't miss your chance to see this legendary group live!
"We can't be running around for that much longer in 40 pounds of gear," Paul Stanley recently told Rolling Stone of the farewell tour. "There's nothing maudlin about it. It's a celebration with our fans around the world. We wanted to raise the bar again as to what a band can do live. That's really what we've always done: we've always wanted to be the band we never saw. There are a lot of shows out there that have Kiss DNA in them because they really weren't shows of any magnitude before us."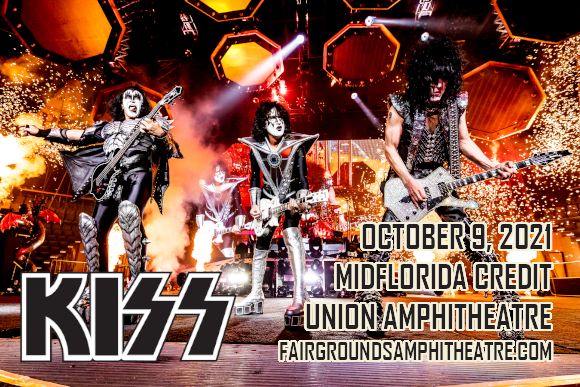 When Kiss burst into the world of mainstream rock in the mid-1970s, there had been no-one and nothing like them before. Paul Stanley, Gene Simmons, Peter Criss, and Ace Frehley (aka The Starchild, The Demon, The Spaceman, and The Catman) – the group's classic line-up – changed everything with a makeup-heavy, monochrome look that glittered and shocked, as well as with their live shows, which were extravagant, uproarious, and full of pyrotechnics. As with most bands, Kiss had changes of personnel over the years, and the group even went without its distinguishing makeup for a time, but the 1990s brought the original members back together and the face paint returned. The band has been inducted into both the Hollywood Walk of Fame (in 1999) and the Rock and Roll Hall of Fame (in 2014) and ha enjoyed a career as one of the biggest rock bands of all time, with 30 gold and 14 platinum albums, including three that have multi-platinum certification.