MidFlorida Credit Union Amphitheatre | Tampa, Florida
You know a band is making its mark in Alternative Rock's history when it causes controversial opinions among the general public but blows away the fans and critics. This is exactly what Kings of Leon did with their long-expected new album – When You See Yourself. Set to launch a North American tour this summer in support of their most recent album, the band has announced a 24-date trek across the country which will kick off August 3rd at the iTHINK Financial Amphitheatre in West Palm Beach, Florida, and wrap October 3rd at the Sunlight Supply Amphitheater in Ridgefield, Washington. The Cold War Kids will provide support throughout the tour. And high on their list of venues is no other than the MidFlorida Credit Union Amphitheatre on the 5th of August!
And according to critics, When You See Yourself shows a whole new side of the boys, a deeper if slightly darker side which would make us ponder over topics such as love and existence, an overall wonderful continuation of their breezier more free songs from the past. As the Rolling Stone concludes, "Turns out these guys can revel in ambiguity just as fully as they once reveled in their youth and young manhood." And we are all here for it on Thursday, 5th of August, get your ticket by clicking the link below.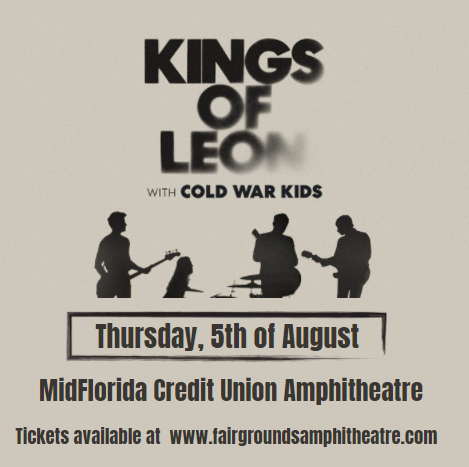 What a better way to enjoy the world going back to normal than the largest concert-only facility in the Tampa Bay Area. MidFlorida Credit Union Amphitheatre has recently hosted bands such as The Lumineers, Blink-182, Thirty Seconds to Mars, Foo Fighters and many other modern rock legends. The amphitheater has played host to many music festivals as well. On the first Sunday of every December, it hosts 97X's Next Big Thing, an all day rock festival, mainly featuring alternative rock bands.
So trust us when we say – there is no venue more suitable to enjoy the return of the Kings in the whole of Florida! Get ready for the rippling guitar leads cascading across some of the meanest riffs the band has put on a record since the early 2000s, followed by the golden restless chorus of "Bandit", or the crosscutting punk riffs on "Echoing", and the warm free notes of "Sex is on Fire".
Secure your ticket by following the link below.