MidFlorida Credit Union Amphitheatre | Tampa, Florida
Get ready for one of the sweetest sounds of the season – Jack Johnson is about to go on tour with his 7th studio album, "All The Light Above It Too," out 8 September!! The much loved singer-songwriter is coming to the MidFlorida Credit Union Amphitheatre on Wednesday 4th October 2017 – make sure you're there!! Get your tickets to see Jack Johnson today, while tickets last!!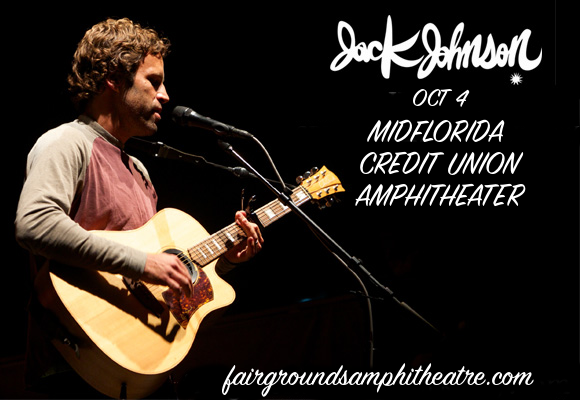 Best-known for his song "Better Together," Jack Johnson gained a reputation in the soft rock and acoustic genres, achieving success with his first album," Brushfire Fairytales". Since then, an amazing four of his seven albums have reached the number 1 spot on the Billboard 200!
The new album was recorded throughout 2016 at at Johnson's Mango Tree Studio in Hawaii. Going back to the 4-track studio recording style that helped to gain his music so much attention in the first place, Jack Johnson is for the first time handling the majority of the album's instrumentation entirely by himself. The result is a sound beautiful in its simplicity, similar to much of his earliest material – stripped-back and beautiful in its simplicity.
The album's first single, "My Mind Is For Sale" was released on July 14th, accompanied by a highly quirky and clever lyric video. Watch is below – but don't get too distracted, those tickets might disappear in the meantime!
Get ready to hear all the new songs live with a sublime live show you'll never forget – get your tickets to see Jack Johnson today.