MidFlorida Credit Union Amphitheatre | Tampa, Florida
Get ready to welcome back some of rock's most innovative and diverse players – the undefinable, yet unmistakeable sound of Incubus. The band are setting off on a HUGE US tour with Jimmy Eat World in tow, passing through 30 venues before they finish up in Seattle in August. Catch this band for the biggest comeback of the year – hit the "Buy Tickets" button above today. But hurry, they won't last long!!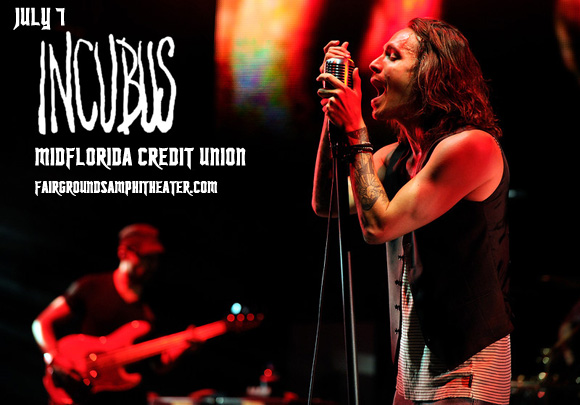 Building much anticipation (as if any more is needed, it's been 6 years since their last album "If Not Now, When?") to the release of their next album, "8," Incubus have just released a lyric video for the album's first single "Nimble Bastard". With everyone including vocals in straight away, it's an instantly engaging, guitar driven song which will delight fans of their older material in particular. The sound, whilst being possibly their catchiest yet in terms of the vocals and lyrics, is also quite significantly heavy than most of their stuff so far, with Joe Pasillas on drums appearing to be having a particularly good time with it.
Said Mike Einziger of the new song; "This song actually came very late in the process of writing new music for our new album that we have coming out very soon…"We're just about done actually and it just kind of happened in the studio and we were messing around with this musical idea and the next thing we know we had a song."
There's no way of knowing for sure whether it's going to be reflective of the whole album – Incubus are not a band to stick to definitions or expectations. However, if there's one thing we can be sure of; if this is what they came up after working on the rest of it, the rest of it is going to be sick!
What are you waiting for?? Grab your tickets NOW!!