MidFlorida Credit Union Amphitheatre | Tampa, Florida
Christian worship band Hillsong United are now on a mission. Once again, they're taking their dynamic, uplifting, and inspirational brand of Christian pop-rock-praise music to the ends of the earth and spreading the good news that Christian music rocks! Contemporary Christian music's biggest and most influential band to date — Hillsong United are on a mega tour and are hitting this side of town for a one-night-only show at the MidFlorida Credit Union Amphitheatre on Saturday 11th May 2019. Hillsong United is known for their eclectic mix of modern sounds of electronica, rock, gospel and inspirational praise music. It is a known fact that they have legions of Christian followers from all over, but are also attracting a universal crowd who are drawn to their vibrant melodies and positive and enlivening lyrics. Don't miss this incredible experience that will lift your spirits high. Tickets for this show are on the rise, so grab on to one before they run out.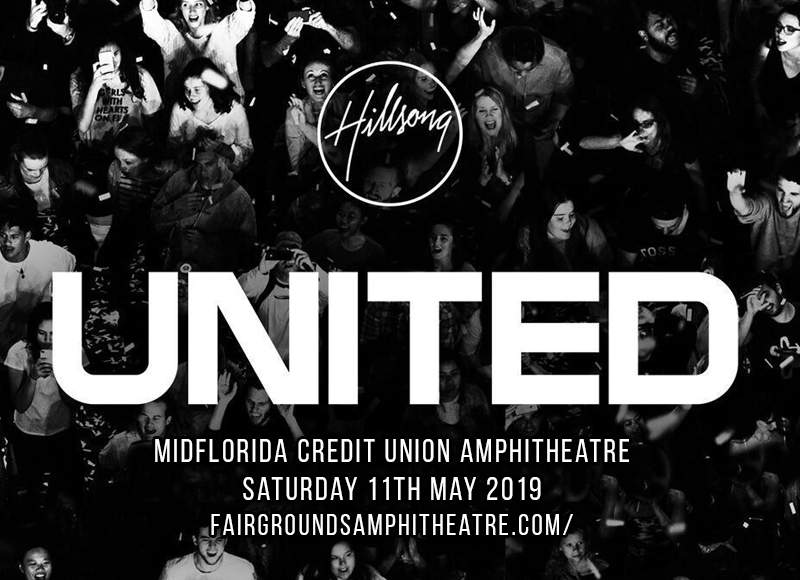 Hillsong United started out in the 90s as a band called "Powerhouse Youth", as part of the music ministry for the youth in Hillsong Church from Sydney, Australia. Their aim was to play and create music that would attract youth churchgoers, hence, they incorporated modern sounds, emotive and powerful lyrics that advocated the Christian faith. It was indeed an effective tool to expand the youth presence, but soon afterward, their following and influence grew in leaps and bounds. To date, Hillsong United is a global phenomenon. Their church performances have turned into mega tours and concerts comparable in terms of impact, volume, and attendance with that of secular music artists. They have performed in concert arenas and top-tier venues in many continents around the globe
Hillsong United's dynamic showmanship could be attributed to their original songs. They have not only taken over the live stage, but they have managed to dominate Christian record charts with top-selling singles and albums. To date, they have released six studio albums, namely All of the Above (2007), Across the Earth (2009), Aftermath (2011), Zion (2013), Empires (2015), and Wonder (2017); along with 13 live albums. From the church halls, they most popular songs could now be heard on concert halls. "Oceans (Where Feet May Fail), "Touch The Sky", "From The Inside Out", "Desert Song", "One Way", are just some of the many songs that bring the crowd to sing their hearts out with praise and unwavering faith.
Hillsong United is an incredible experience that never fails to invigorate the soul through music. It's one of those unique shows that you would most likely post in your social media as: "#blessed to be part of this amazing event!"