MidFlorida Credit Union Amphitheatre | Tampa, Florida
It's the ultimate rock and post-grunge act of the year! Counting Crows are on tour once again with Matchbox Twenty. The "A Brief History Of Everything Tour 2017" comes to MidFlorida Credit Union Amphitheatre on Tuesday 15th August 2017 – don't miss out on your chance to be there!! Get your tickets to see Counting Crows and Matchbox Twenty TODAY!!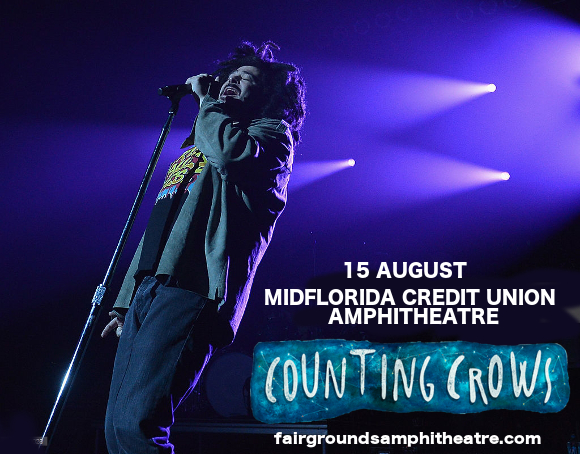 Formed in 1991 Berkeley, California, Counting Crows is a 7-piece outfit consisting of Adam Duritz, lead singer, with guitarist David Bryson, keyboardist Charlie Gillingham, guitarist Dan Vickrey, multi-instrumentalist David Immerglück, Jim Bogios on drums and Millard Powers on bass. The band rose to prominence following the release of their first album in 1993, "August and Everything After" and the hit single "Mr. Jones." Their song "Accidentally In Love," was featured in the film Shrek 2, gaining them even more attention and an Academy Award! To date, the band have sold more than 20 million records across the world.
On tour with them, and not for the first time, are pop-rock band Matchbox Twenty. Achieving massive success with their 1996, 12x platinum-certified "Yourself or Someone Like You", the band went on to develop a massive global following. Lead singer and songwriter Rob Thomas was enthusiastic about the upcoming tour, saying that; "No matter what I will ever do, nothing feels like home as much as playing these songs with these guys and it never will… I can't wait to spend another summer out there on the road with the Crows."
What are you waiting for?? Get your tickets to this amazing show before they disappear!!