MidFlorida Credit Union Amphitheatre At The Florida State Fairgrounds | Tampa, Florida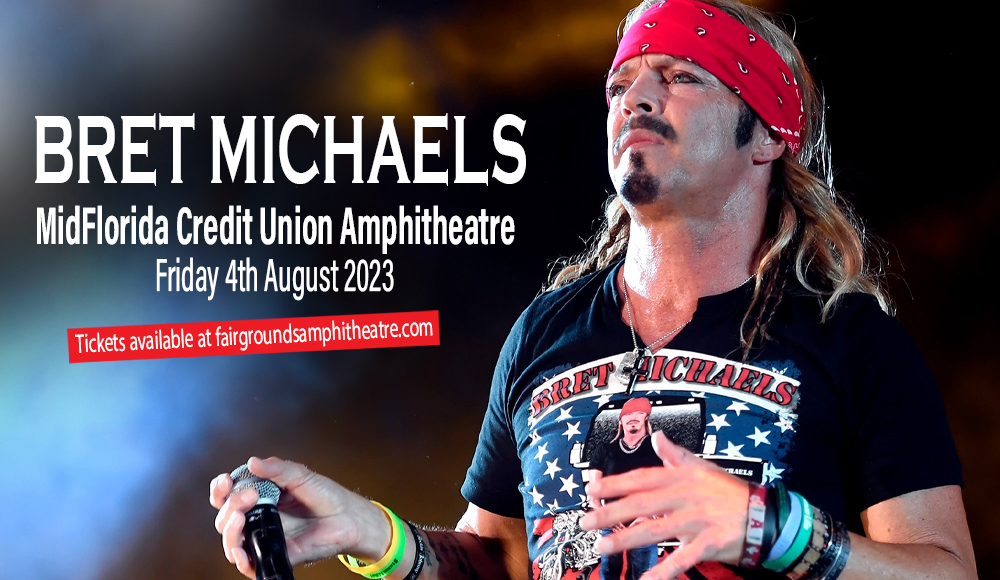 The iconic 80s star, Bret Michaels, is going on tour like it's 1987! The 'Rock of Love' star is gearing up to bring his rockin' music back to the live stage at MidFLorida Credit Union Amphitheatre on Friday, 4th of August 2023. Hitting the road this summer, the former Poison frontman recently shared a new single "Back in the Day", an anthem that takes listeners back to great times of rockin' music on the radio. You can expect the man to perform his hard-hitting hits and crowd favorites at the 2023 Pati Gras Tour, promising 'nothin' but a good time. Book your tickets now!
Former Poison frontman Bret Michaels is keeping his music alive and kicking on the live stage, announcing the 2023 Pati Gras Tour. The tour will play venues across North America, serving live hard rock music like it's 1987. Following his tour announcement is his newest single "Back in the Day", a nostalgic rock anthem reminiscing the good old days of music right out of the radio.
"It's just a through back road trip anthem and when people hear this, it's just a great good feeling party song," Michaels shared. "It's a great rock song."
On the day of the track's big release, Michaels shares that the song hopes to pay homage to radios and DJs who made listening to rockin' music back in the day possible. "It is a song that truly reflects on great times and pays homage to the radio stations and DJs that cranked up the music while bringing us great songs that have withstood the test of time," he shared.
"Music is a universal language meant to unite us, not divide us, and that is exactly what this song is about," the singer added.
Its music video takes viewers back to the early days of MTV, featuring green screens, funky visuals, never-before-seen pictures, and Hi8 shots from his younger days.
Bret Michaels' upcoming tour promises to be a one-of-a-kind experience, especially for the lucky fan who'll get to join Michaels and special guests on stage as they sing "Nothin' But A Good Time". "It's unique, never quite been done before. I said I want to throw that party starting in the parking lot, into the building," he shared as the show starts right outside the venue with people in tiki hut golf carts, handing out Mardi Gras beads to fans.
"Let fans have a chance to be on the side of the stage. They're doing the 'Dress Like Bret' karaoke contest. It's like a carnival of fun and awesomeness." The show will also feature different segments including parties and contests.
More than just a concert to hear Michaels' legendary rock anthems live on stage, the 2023 Pati Gras Tour is a unique concert experience featuring parties, fun, and games.
Don't miss out on the 2023 Pati Gras Tour by booking your tickets now!