MidFlorida Credit Union Amphitheatre | Tampa, Florida
For a relatively new artist, his calendar of shows looks like that of a veteran country artist. That is because Brantley Gilbert is a seasoned performer, who in no time, has achieved stellar status with his unique brand of Southern rock and country music. Armed with his guitar and with a little help from his friends Michael Ray and Lindsay Ell, the "Not Like Us" Tour is is rolling down the highway leading to the MidFlorida Credit Union Amphitheatre on Saturday 28th September 2019. Seize this chance to have hefty doses of hot and smokin' country and rock music. Brantley Gilbert's rabid fans can't wait to grab a bite. Have your fill and book your tickets now!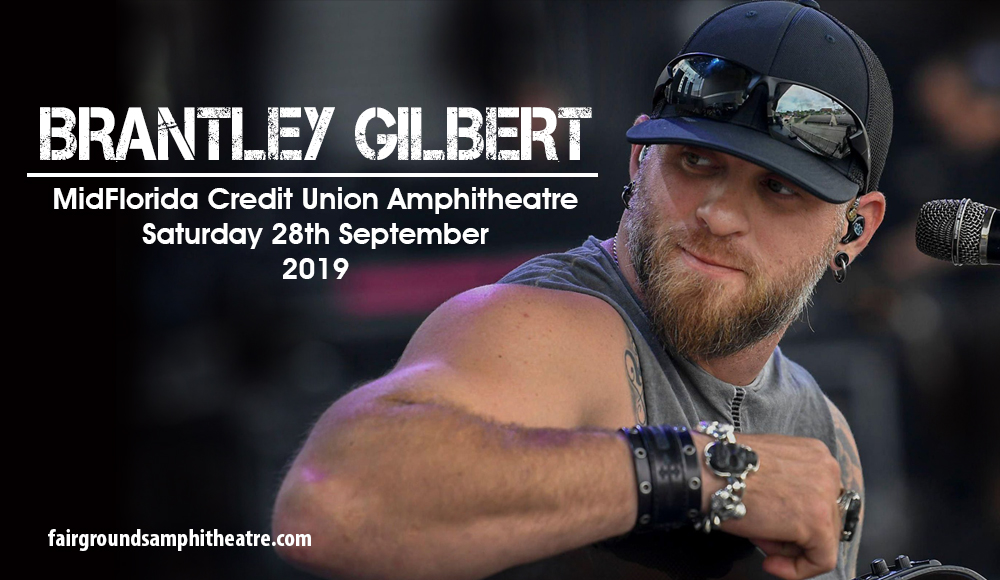 "Bottoms Up", "Small Town Throwdown", "One Hell of an Amen", "What Happens in a Small Town", and more, are just some of the singles that propelled Brantley Gilbert's career up to dizzying heights. He is relatively new to the biz, but his credentials are almost at par with veteran country stars. From three studio albums that spawned 11 chart entries, 4 of which have peaked at the number one positions. He is also a tunesmith and literally a hitmaker responsible for Jason Aldean's singles "My Kinda Party" and "Dirt Road Anthem".
Brantley Gilbert is also an impassioned performer who wants nothing but to give it all and always take his performance levels up a notch. And this time, he's trying to acheive it with a little help from equally compelling support act–Michael Ray and Lindsay Ell.
"I'm trying to open things up, but keep bringing the intensity. I think Michael really gets how guys feel, and rolls into a sound that's all his own, and Lindsay, man, the only thing better than the way she sings is the way she plays that guitar!" He added, "I am really fired up to be bringing both these folks out on the road this fall, because I know they're gonna give the BG Nation something that's gonna lift 'em up, throw 'em down, and make them glad they got there early."
Of course, he is always thinking of paying it forward to his loyal fans who would go at all lengths to see his shows.
"People work hard for their money, and I take it very seriously when we come to town. Any time we hit that stage, we intend to give the people everything we've got," Gilbert says. "This new music is a whole new chapter of my life, and as much as the fans have been there for every step of this journey, I think – once again – they're gonna know just what I'm singing, too."
Don't miss this high-intensity show. Get your tickets now!