MidFlorida Credit Union Amphitheatre | Tampa, Florida
Get ready for some serious fun times as Blink 182 & Lil Wayne join forces to bring a co-headlining tour to MidFlorida Credit Union Amphitheatre on Friday 26th July 2019! The two acts celebrated the announcement of their somewhat unexpected team-up with a video recording of a live mash-up of "What's My Age Again?" and "A Milli", and fans can expect more collaborations from the performers, who will also be performing a full set each! Joining them in support are Welsh punk rock outfit Neck Deep!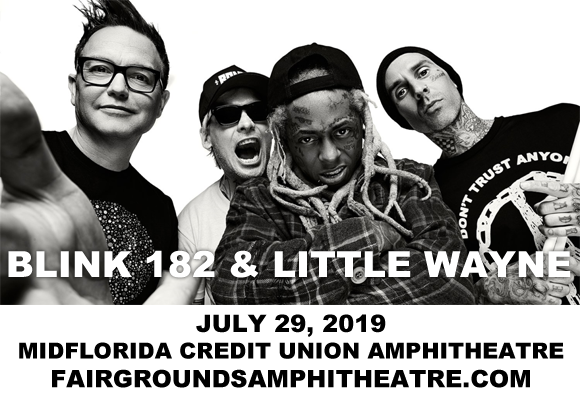 A forerunner in the pop punk explosion of the late-1990s and early-2000s, American punk rock band Blink-182 burst onto the scene in 1995 with the release of their debut album, Cheshire Cat. The band at the time was formed of bassist and vocalist Mark Hoppus, guitarist and vocalist Tom DeLonge and drummer Scott Raynor, and on the strength of their debut, the band was signed to MCA Records in 1996 after a bidding war with Interscope and Epitaph. In 1998, Scott Raynor was replaced with Travis Barker. The band's 1999 album, Enema of the State, was an international hit and marked them as pop punk's most prominent band, launching three singles – "What's My Age Again?", "All the Small Things", and "Adam's Song". Take Off Your Pants and Jacket (2001) was another global hit, with the singles "The Rock Show","Stay Together for the Kids" and "First Date" cementing the band's mainstream success. In 2003, the band released an eponymous album before embarking upon an indefinite hiatus until 2009. After reforming, they released the album Neighborhoods in 2011. Tom DeLonge left the band in 2015, and Alkaline Trio guitarist and vocalist Matt Skiba replaced him. Their most recent album, California, was released in 2016.