MidFlorida Credit Union Amphitheatre | Tampa, Florida
Grammy Award-winning indie rock artists Beck & Cage The Elephant have teamed up for an incredibly exciting co-headlining North American tour! The Night Running Tour comes to MidFlorida Credit Union Amphitheatre on Thursday 29th August 2019 with a headlining set from each of these iconic acts, plus support from Texas rock band Spoon and New York alt-rockers Sunflower Bean!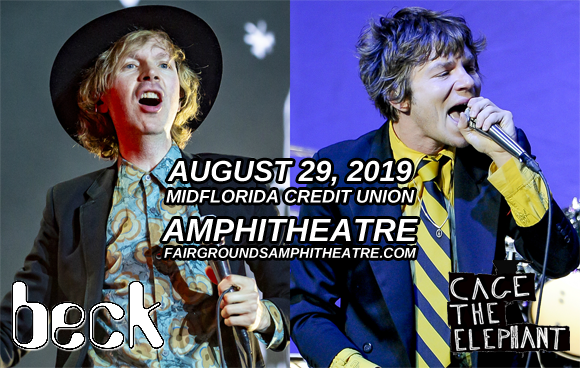 Grammy Award-winning experimental singer, songwriter, musician and record producer Beck came to fame in 1994 with the release of his breakthrough single "Loser". The song was an international hit, reaching number one in Norway and the top 10 in the US, Australia, Canada, Iceland, New Zealand and Sweden. It also helped his major-label debut, Mellow Gold (1994), become a commercial success, peaking at number 13 on the Billboard 200 and eventually being certified platinum. Odelay, his 1996 follow-up, launched several hit singles (including "Where It's At", "Devils Haircut", and "The New Pollution") and was a critical success, winning two Grammy Awards from three nominations. To date, Beck has won 18 awards from 57 nominations, including six MTV Awards and seven Grammy Awards. His thirteenth and most recent album is 2017's Colors, which won Best Alternative Music Album and Best Engineered Album, Non-Classical at the 61st Annual Grammy Awards.