MidFlorida Credit Union Amphitheatre | Tampa, Florida
EVENT RESCHEDULED TO TUESDAY 17TH AUGUST 2021. Originally Tuesday 17th June 2070. All original tickets are still valid!
Dubbed by Rolling Stone as the "Queen of Alt-Rock Angst", the reign of Alanis Morissette is stronger than ever. And yes, it's been 25 years since the release of that mammoth-of-a-hit-album "Jagged Little Pill", and people are still singing, screaming, cursing, and bawling their hearts and lungs out to the hits spawned by this album. Well, those days of singing in front of a mirror and doing air guitar behind closed doors are over! Queen Alanis, herself, has proclaimed that a world tour is in order. And if you're looking for a schedule on the neck of these woods, well there is one; happening at the MidFlorida Credit Union Amphitheatre on Wednesday 17th June 2020. Missing out on this show is worse than having rain on your wedding day. Just click on the 'buy tickets' link on this site to lock-in that awesome date when you get to catch Alanis Morissette live!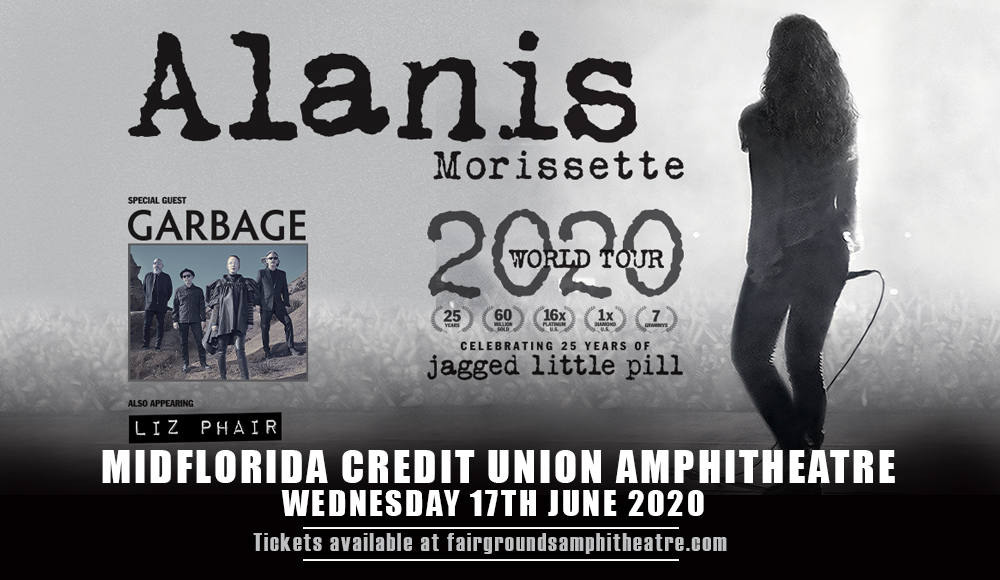 It's been 25 years since Alanis Morissette gave us a taste of that "Jagged Little Pill". And we were and will always be hooked! The effects haven't simmered down, and has been spreading its angsty wings down to the younger generations. The announcement of Alanis' "Jagged Little Pill The World Tour" is also a powerhouse event that brings Morisette together onstage with badass 90s female acts as special guests, namely Garbage and Liz Phair.
Starting out as a child TV star, Alanis Morissette soon followed the path of teen bubblegum pop, only to get lukewarm response and getting kicked out of her label. Soon enough, Alanis may have channeled all these in writing bitter yet heartfelt songs that tell tales of broken relationships, troubles with eating disorders and other heavy topics, in her 1995 ground-breaking album "Jagged Little Pill". From one angry-girl-power single to the next that soared way up the charts and lorded over the airwaves, Morisette earn the moniker "Queen of Alt-Rock Angst" as proclaimed by none other than Rolling Stone.
"All I Really Want," "Hand In My Pocket," "Ironic," "That I Would Be Good," "Forgiven," "Head Over Feet," "Perfect," "Univited," "Thank You", "You Learn", and more, became some of the most-belted-out-songs-in-the-shower.
"Jagged Little Pill", being Alanis' most critically acclaimed work.sold more than 33 million copies globally and her cumulative album sales total 75 million records worldwide. This album was also nominated for nine Grammys, and won five including album of the year. It's been ranked as one of Rolling Stones 100 Best Albums of The '90s.
Enough of singing in the shower. Go for the real deal and rock your heart out with Alanis Morissette Live! Get your tickets now!