MidFlorida Credit Union Amphitheatre | Tampa, Florida
Tampa Bay's Next Big Thing concert is almost enough to drink, 97X Next Big Thing at MidFlorida Credit Union Amphitheatre on Saturday, December 4th, 2021. Buy your tickets now to watch Weezer headline on a more robust night two, where the bill also includes AJR, All Time Low, Bastille, Girl in Red, Mod Sun, Nessa Barrett, Girlfriends, Daisy the Great and Upshal. The guest co-host of the 97X Next Big Thing is Something Corporate band lead, Andrew McMahon.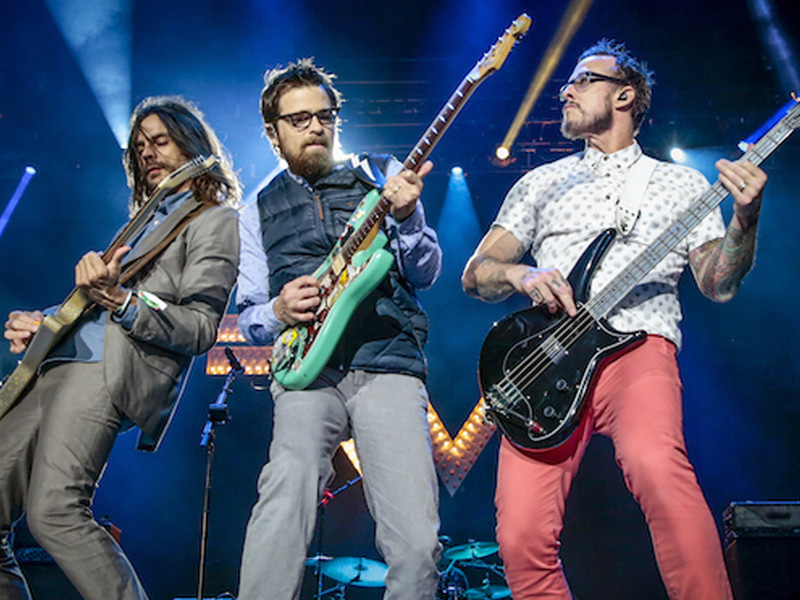 2021 97X Next Big Thing Night 2 line-up is:
• Weezer
• AJR
• All Time Low
• Bastille
• Girl in Red
• Mod Sun
• Nessa Barrett
• Girlfriends
• Daisy the Great
• Upshal
Van Weezer is the fifteenth studio album of the rock band, Weezer, released in May 2021. The album was preceded by four singles, "The End of the Game", "Hero", "Beginning of the End" and "I Need Some of That". The album received generally positive reviews from critics, and peaked at number 11 on the Billboard 200 chart.
AJR released their fourth studio album, OK Orchestra, back in March 2021. The album's first single, "Bang!", ended up becoming one of the trio's biggest hits, entering the Billboard Hot 100 chart at number 99 and peaking at number 8, and eventually winning the band their first Billboard Music Award for Top Rock Song.
Wake Up, Sunshine, is the eighth studio album by the rock band, All Time Low, released way, way back in April 2020, when things really did look different. The album's fourth single "Monsters" is the highest-charting song of their career, debuting on the Billboard Hot 100 at number 88 and peaking at number 55.
Brit Pop-rock band Bastille are preparing to release an as yet unnamed fourth album, so far all we have is the singles, "Distorted Light Beam", "Give Me The Future", and "Thelma + Louise". Given that band front-man Dan Smith confirmed that a fourth album had been finished and already been pressed on CD and vinyl, we can only presume Brexit delays are affecting the guys.