MidFlorida Credit Union Amphitheatre | Tampa, Florida
This year, 97X's Next Big thing has gotten bigger and better! Have a blast with a solid line-up of alternative-rock bands that will blow up the stage of the MidFlorida Credit Union Amphitheatre on Sunday 24th November 2019. This is guaranteed to be one of the biggest weekend music getaways you'll ever get. Get a full day of music…yes, you read it right — it's going to be an all-day alt-rock music sound trip happening in one amazing stage. You'll be totally rocking to the death with this all-killer, no-filler line-up: The 1975, AJR, Judah & The Lion, The Revivalists, Silversun Pickups, Shaed and more! Piece of advice — best to watch this with your band of buddies, as you could turn this gig into a party, a moshpit, or whatever and however the spirit of rock moves you. But first — get your fingertips moving (yes, just your fingertips!). Start buy clicking the 'buy tickets' button then just follow the easy steps on how to book your tickets online. Easy peasy! What are you waiting for? Big gigs such as this one ought not to be missed.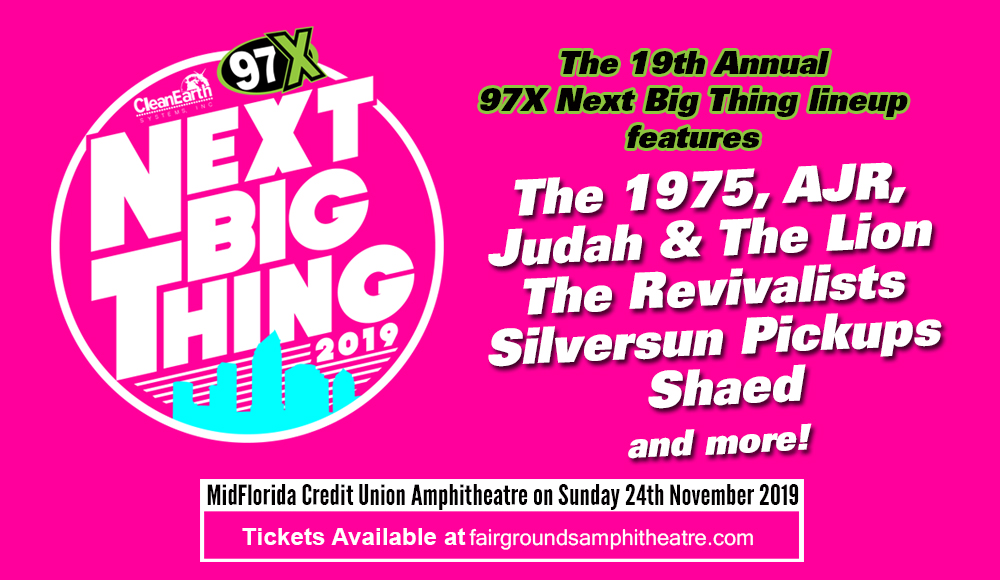 97X Tampa Bay's New Alternative brings back this year's "97X Next Big Thing". Headliner act The 1975 may be the big one, yet these front liners and supporting bands are as intense in causing tremors and explosions: AJR, Judah & The Lion, The Revivalists, Silversun Pickups, Shaed and more!
The 1975: The Tampa Bay Times has hailed the band, with "Singer Matty Healy has a way with both attracting headlines and writing catchy, classic-sounding pop songs". The 1975 started out as a social media phenomenon, but now they're riding high on worldwide superstardom brought about by their smash hits — "Sex", "Chocolate", "Robbers", The Sound, Love It If We Made It, She's American and It's Not Living (If It's Not With You), and many more.
AJR: The Met brothers — Adam, Jack, and Ryan or AJR, as they are popularly known indie-pop-rock circles. And with brilliant ditties such as "I'm Ready", "Weak", and "Burn the House Down", it's kind of amusing to imagine that they just write, produce and mix their material in the comfort of their living room apartment; and they also have charting albums to boot which include "Neotheater". This album debuted at number 8 on the Billboard 200, and hit number 1 on the Top Rock Albums chart.
Judah & the Lion: The name and partly, their sound has Christian undertones, but Judah & the Lion has an expanded repertoire styles which include Americana, bluegrass, folk, rock, hip hop, electropop. Their sound is loosely described as having the "grit of Run DMC or Beastie Boys" but played on folk instruments."
The Revivalists, Silversun Pickups, Shaed [and more to be announced] complete the 97X Next Big Thing line-up. This is undeniably a smash! Book your tickets now!