MidFlorida Credit Union Amphitheatre | Tampa, Florida
With his relatable, melodic hip-hop and trap tunes, Rod Wave has become one of the most exciting and unique voices of the scene in recent times! In support of his chart-topping third studio album SoulFly, Wave comes to MidFlorida Credit Union Amphitheatre on Saturday 11th September 2021 as part of his biggest tour yet! The performer will be upping the ante on this run, which is brought to the stage by Rolling Lous, who are responsible for some of the countries most popular hip-hop festivals! It's gonna be a banger, guaranteed!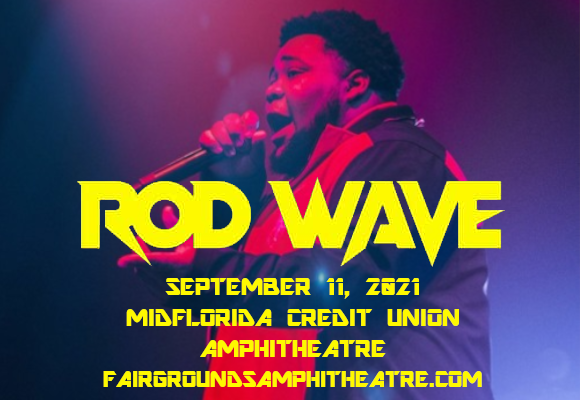 Florida rapper and singer-songwriter Rod Wave began making roads into the industry when he was still a teen, but despite his youth, it is his powerful voice and ability to tackle hard-hitting subjects that have set him apart as a true talent on the hip-hop and R&B scenes. After gaining some traction on SoundCloud with his mixtapes, Wave's career took off in 2019 when his track "Heart on Ice" (from his mixtape PTSD) became a viral hit on YouTube and Tik Tok. The single soon brought him chart success when it peaked at number 25 on the Billboard Hot 100. This paved the way for the success of his debut album, released later in 2019 and titled 'Ghetto Gospel', which peaked at number 10 on the Billboard 200 and was certified gold by the RIAA. Since then, his career has gone from strength to strength – his sophomore effort Pray for Love landed 12 of its tracks on the Billboard Hot 100 (including the single "Rags2Riches", which peaked at number 12) and reached number two on the Billboard 200. SoulFly, his third and most recent album, was released in March 2021 and debuted at number one on the Billboard 200.